< All integration methods
Online scheduling napriem.com for wordpress site
Download online scheduling plugin
Most sites have a dull feedback form. After filling in the fields, site administrator receives a letter, precious time elapses between the request and the response. Using the service napriem.com will significantly speed up this process and add interactivity. When using our service, a visitor on your site will have to verify their phone number via SMS (can be disabled in the settings), which will protect against fake entries.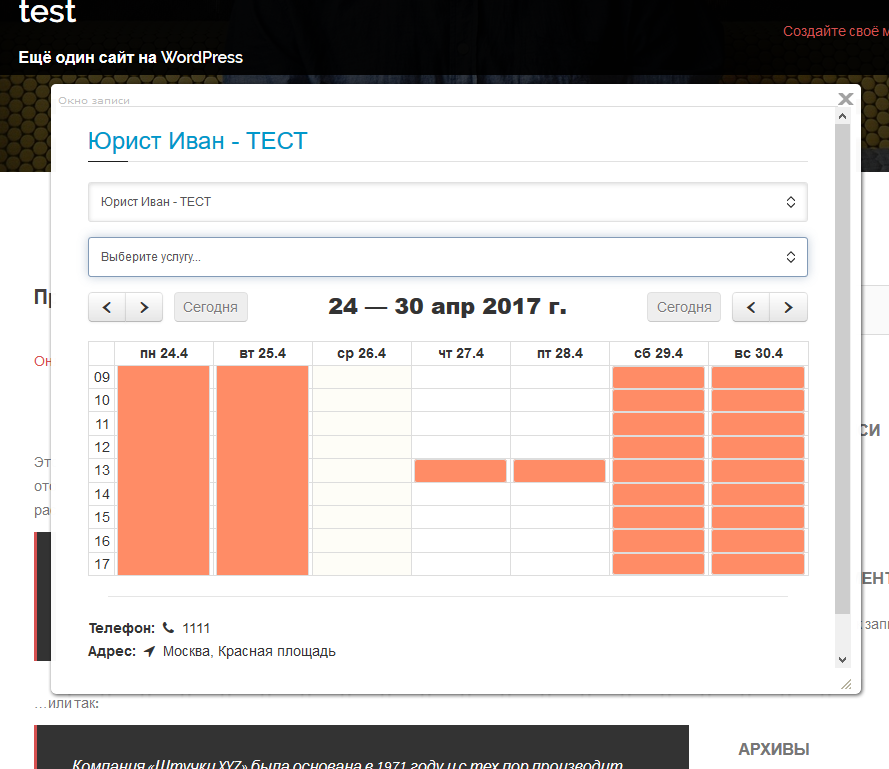 After installing the plugin on your site in the page appearance editor, a button with a calendar will appear to insert a link for a pop-up window:




This link will open an appointment entry window on your site. You need to switch to the "Text" mode and change the link - specify the name of your page from Menu->Integration in your account dashboard on the site napriem.com, "instead of "https://timeplan.me/test" set "https://timeplan.me/alisa.""
You can configure your settings, such as - window size, title, hide the map, hide the list, etc.
A complete list of settings is similar to integration with the site:
data-title - Window title. Default: "New entry"
data-weight - Window width, pixels. Default: "800"
data-height - Window height, pixels. Default: "800"
data-hidemap
Video guide on integrating with a wordpress website will show all the steps - from registering on the website napriem.com before adding online scheduling to a wordpress site.